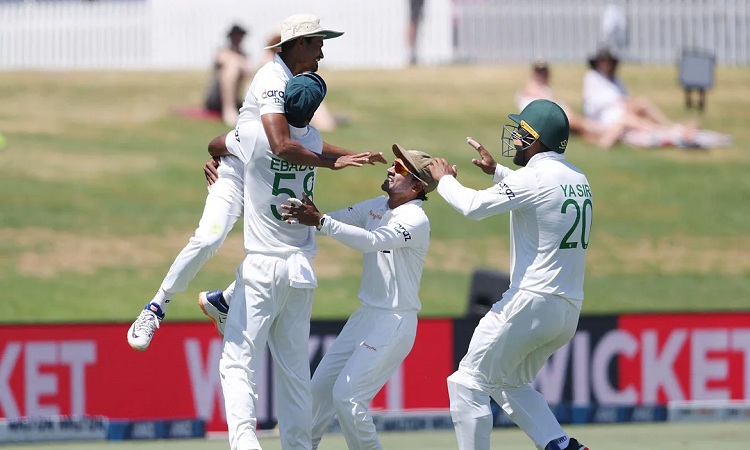 Kriralok Desk: The current champions of the Test Championship are New Zealand. Bangladesh got a historic victory in the Test by defeating New Zealand on their own soil. This is Bangladesh's first win in any format on New Zealand soil.
Muminul Bahini won by 8 wickets on the last day of the first Test at Mount Manganui on Wednesday morning Bangladesh time. Bangladesh reached the target of 40 runs given by Kiwis by losing 2 wickets.
New Zealand started today's game with 147 runs for 5 wickets. However, Ebadat-Taskin's cannon did not go far as New Zealand were bowled out for 169 in the second innings.
Fast bowler Ebadat Hossain took 6 wickets for 46 runs. Besides, Taskin Ahmed took 3 wickets. Bangladesh took a 130-run lead in the first innings and set a target of 40 runs.
The Tigers did not get up to speed to chase the target. Bangladesh reached the target after losing 2 wickets in 16.2 overs. This is the Tigers' first win in a Test against New Zealand. Muminul Haque remained unbeaten on 13 and Mushfiqur Rahim on 5. Shant was out for 17 and Shadman for 3.
New Zealand scored 328 and Bangladesh 458 in the first innings. As a result of this victory, Bangladesh took a 1-0 lead in the two-match Test series.
Kri/sp-001