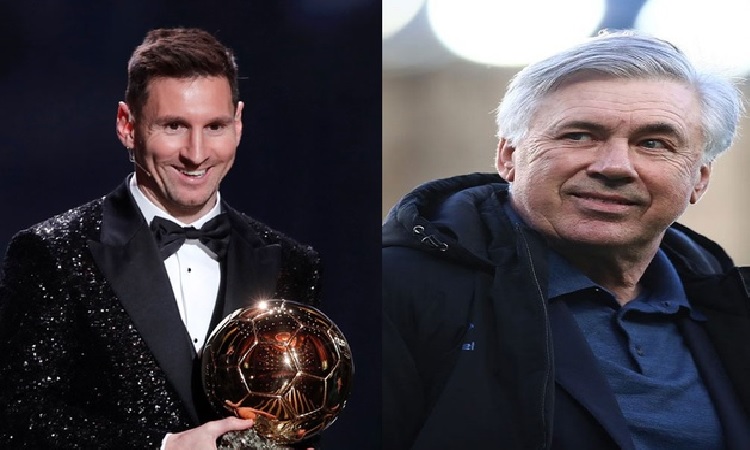 Kriralok Desk: Many put Karim Benzema and Robert Lewandowski ahead in the race for the Ballon d'Or. Georginio was also discussed. In the end, however, Lionel Messi has become the best of the year, leaving them behind. The old controversy has arisen anew, is the award in the hands of a worthy person? Real Madrid coach Carlo Ancelotti has no doubt. According to him, the PSG forward won the title as worthy.
At a glittering ceremony in Paris on Monday night, Messi was presented with the Ballon d'Or 2021, the French Footballer of the Year award. The former Barcelona forward has received this recognition a record seven times.
Cristiano Ronaldo, Messi's main rival for more than a decade, was far behind in the fight for the award. However, Benzema and Lewandowski, who have been in great form since last season, were seen by many of their teammates, coaches and former players as being the best of the year.
Messi got 613 points in the best fight in the votes of journalists. Lewandowski was second with 33 points less. And Benzema is fourth.
Real will face Athletic Bilbao in their next match in La Liga. The match will start at 2 pm Bangladesh time on Wednesday.
The issue of Ballon d'Or was also raised at Ancelotti's press conference the day before. The Italian coach, however, does not see any controversy here. His simple and straightforward answer, Messi has been the best of the year as a worthy.
"Messi has won the award and he is still a great player. There is nothing new to say about this."
"Personal rewards are important for players, but it's not a problem if they don't win."
Ancelotti is hopeful that next year Benzema or another Real player will win the award.
"Hopefully next year a Real Madrid player will win it. Benzema has had a great season and he is fourth. (Next year) he will try to be the first with new inspiration."
Real are top of the league with 10 wins from 14 matches and 33 points from three draws.
Kri/sp-001