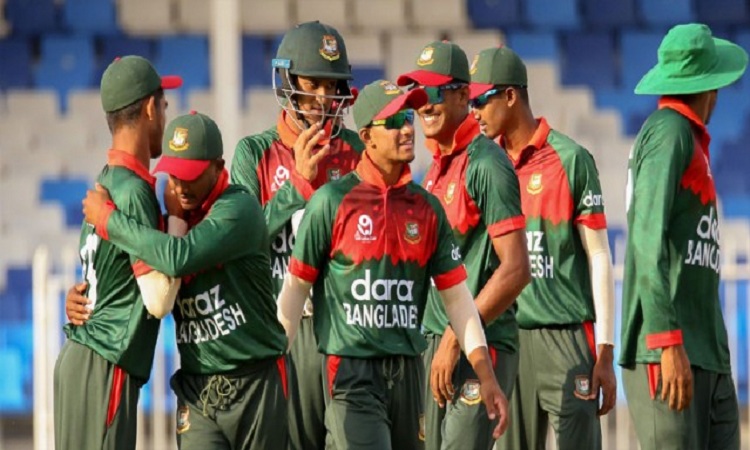 Kriralok Desk: Bangladesh had already set foot in the semi-finals with two consecutive wins in the Under-19 Asia Cup. After the match between Sri Lanka and Nepal on Sunday, the ticket for the semi-final has been confirmed by the red-green forces. After winning the series on Indian soil, the youth of Bengal seem to be flying in the Under-19 Asia Cup. After losing to Nepal by a big margin in the first match, Rakibul Bahini also defeated Kuwait in the second match on Saturday (December 25).
In Group B of the tournament, Bangladesh and Sri Lanka have 4 points each after two matches each. Besides, the other two teams of the group, Nepal and Kuwait, have not been able to open the points register yet. Meanwhile, Bangladesh and Sri Lanka will meet in the last match of the group on Tuesday (December 28). Bangladesh will play in the last four to become the group champion only if they can defeat the Lankans in this match. On the other hand, even if Nepal and Kuwait win their last match, they will have two points.
Young Tiger marginal Nowroz Nabil scored a century for Bangladesh against Nepal in the first match of the tournament. 127 runs from 112 balls came from his bat. Nabil had 11 fours and one six in his innings. In that match, Nepal lost by a big margin of 154 runs. Rakibul Hasan scored 297 runs for the loss of 4 wickets in 50 overs. In reply, Nepal's innings was reduced to 143 runs.
After that in the second match Mahfizul Islam's century against Kuwait made a mountainous collection against Bangladesh U-19 team. Rakibul Hasan Bahini lost 10 wickets and scored 291 runs. Young Turkish Mahfizul scored 112 runs alone. He hit 12 fours and 4 sixes on the way to such impeccable batting.
Kuwait did not have a good start at all in pursuit of the mountainous goal. They broke the opening pair by scoring only 5 runs on the scoreboard. After that Kuwait started losing wickets one by one. The youth of Bengal lost the team by 222 runs.
Mitt Bhavsar, the team captain for Kuwait, tried to put up a little resistance. He played a combative innings of 43 runs. However, no one else could do anything with the bat.
Kri/sp-001