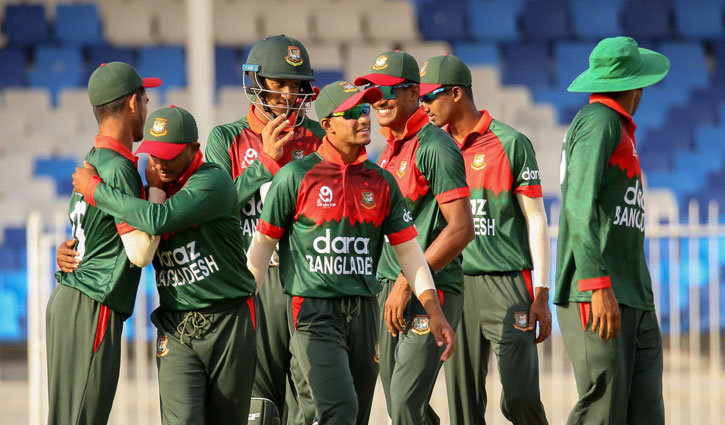 Kriralok Desk: The Bangladesh-Sri Lanka match in the Youth Asia Cup has been canceled due to on-field umpire being infected with coronavirus. Both teams have to be satisfied by sharing 1 point equally. There was no problem on the way to the semifinals.
Bangladesh and Sri Lanka are tied 5 from Group B but Bangladesh is the group champion as they are ahead in net run rate. Bangladesh's net run rate is 3.810 and Sri Lanka's is 3.340. Being at number one, Bangladesh has got runners-up India in Group A as the semi-final opponent. On the other hand, Pakistan will face Sri Lanka.
The match was canceled on Tuesday (December 28) while Bangladesh were batting in Sharjah. Abu Enam Mohammad Kauser, the BCB's game development manager, confirmed the matter to Risingbd on his mobile phone.
Rakibul Hasan's team has been playing great from the beginning in the ongoing Asia Cup. After beating Nepal by 154 runs, they beat Kuwait by 227 runs in the second match after the start of the tournament. He also played well against Sri Lanka with the bat, but the match did not end because of Corona. This time the youth mission lost to India in the semi-final and cut the ticket to the final.
The Indian youth in the 'A' group did not get much benefit. Pakistan became the group champion by winning all the three matches. India lost to Pakistan by 2 wickets. In the other two matches, after losing to UAE by 154 runs, they won against Afghanistan by 4 wickets.
The Rakibul-Nabils won the tri-nation series against India before catching a plane for the Asia Cup. With that happy memory, the youth will go down to the maharana to reach the final against India.
Kri/sp-002