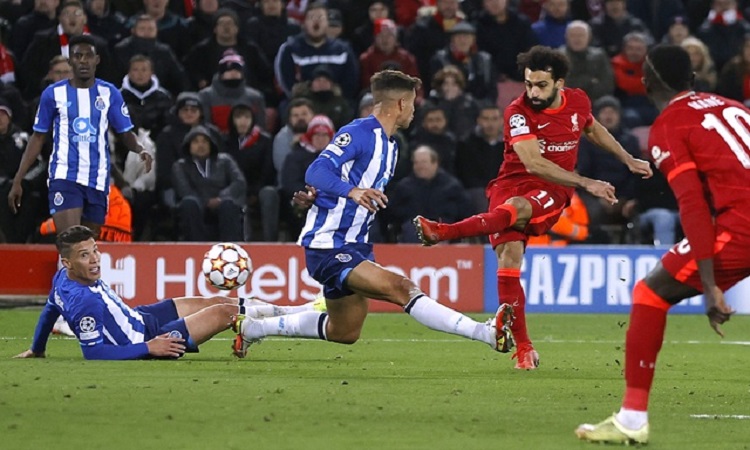 Kriralok Desk: Earlier, the last 16 of the Champions League seemed to be confirmed in the game of Liverpool. Salah-Maned was not seen in the second leg as in the first leg. Porto, who had his back against the wall, played a lively football, but could not stop Liverpool's enjoyable moments.
Liverpool won 2-0 at Anfield on Wednesday night. Mohamed Salah doubled the lead after Thiago Alcantara led the team.
Liverpool are top of Group B with 15 points from five consecutive wins. In the other match of the group, AC Milan won against Atletico Madrid with the goal of Messias in the 7th minute. The fight for the second ticket to reach the last sixteen from this group is frozen.
Despite losing to Liverpool, Porto are in second place with 5 points. Milan is third and Atletico is fourth with 4 points each. These three teams have a chance to win the group stage.
Liverpool had a victory in the match with Porto in both legs in the current edition. In the first leg, the English Premier League team came back from the opponent's field with a 5-1 victory. Salah and Roberto Firmino scored a pair of goals in that match, Sadio means one.
Pepe, the second Portuguese footballer after Cristiano Ronaldo to play his 100th match in the Champions League, left the field in the 25th minute due to injury. He was replaced by Fabio Cardoso.
In the 38th minute, Liverpool's Sadio also wrapped the ball in the net with a corner kick in the middle of the first half. But the Senegalese forward was offside after being caught in the VAR. Mateus Uribe got the ball inside the box in the fifth minute of the second half after Joao Mario's free kick was returned by Alison Fist. The body turned and the shot taken by this Colombian midfielder went out of the post for a while.
Liverpool got the goal in the 52nd minute. Alcantara got to the top of the box after Alex Oxlade-Chamberlain's free kick was returned to the head of a defender. The Spanish midfielder's volley caught the eye in the blink of an eye from 25 yards out. The Porto goalkeeper did not reach the ball even after jumping. Liverpool also started to take the reins of the match.
Salah's goal doubled in the 70th minute. With perfect back heel, Jordan Henderson increased the ball and Salah entered the box. After getting a pass from his teammate, the Egyptian forward cut a defender and hit the target with a perfect post with a perfect shot of his left foot. The fate of the match is also written a lot.
Under the club's coaching, Liverpool increased their winning streak at home to 17 in the Champions League. In the previous 23 matches played at Anfield by the German coach, they have lost only two and drawn five.
Kri/sp-001