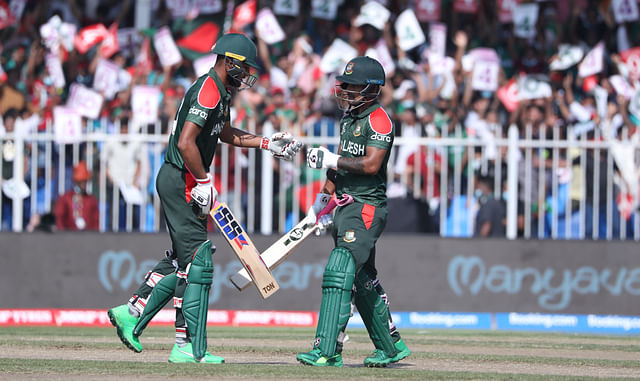 Kriralok Desk: The start of the tournament has been completely different for the two teams. England won the first match by six wickets, dismissing the West Indies by just 55 runs. Everyone has understood why they are being considered as one of the favorites to win the World Cup this time.
On the other hand, Bangladesh lost the first match due to fielding failure despite throwing a target of 162 runs to Sri Lanka. Bangladesh and England will face each other in their second match at Sheikh Zayed Stadium in Abu Dhabi at 4 pm today. Bangladesh has no option but to win today so that the dream of the semi-final does not fade away.
Abu Dhabi's wicket is quite suitable for batting in the beginning. But as the game progresses, the pitch becomes slower. As a result, spinners and slow bowlers can then take advantage of the pitch. The information should not be unfamiliar to Mostafiz, Shakib, Nasum, Mehdi.
A total of 52 Twenty20 matches have been played at this ground so far, with the team batting in the first innings scoring an average of 139 runs and the team batting in the second innings scoring an average of 128 runs.
Out of 52 matches, the team batting first has won 23 matches, while the team bowling earlier has won 29 matches.
Before winning the toss in this T20 World Cup, there is a tendency among the teams to bowl the opponents with a few runs. Even in this field in Abu Dhabi, since the team that bowled earlier has won most of the matches, it cannot be blamed if England and Bangladesh want to follow this method today!
The weather in Abu Dhabi will remain hot and dry like other days, according to the weather report. Since the game is at noon, both teams will suffer quite a bit from this weather.
Today's temperature in Abu Dhabi will be between 35 and 36 degrees Celsius. The humidity will be 55 percent and the wind speed can be up to 18 to 20 kilometers per hour.
kri/sp-001